From 0 to 93 school customers in just 7 days
Towards the end of 2016, a start-up company asked us to help generate leads. We get it. Being the brand new small fish in the large edtech ocean is tough. Really tough. Thankfully, we like a challenge and this post outlines exactly what we did and how we helped turn our client from small startup into big success in just 7 days.
In this blog post we look at marketing funnels and sales strategies – download our 8 step teacher to ambassador guide to learn how you can implement these processes in your business!
What you will learn:
How we build marketing funnels
How and why we splinter a product
How we run paid traffic campaigns
How we automate the process
Some background reading
"We need to think of marketing as relationship building. Most sane people wouldn't ask for a hand in marriage on the first date, but companies seem to think this is okay. Edtech companies consistently promote their end goal – the product – when they first encounter a potential customer – without any introduction or niceties first, they go straight in for the kill and then wonder why their conversion rates are crap. Stop asking people to marry you on the first date."
We believe the key to successful selling in the education sector is to stop talking about your product and to start offering genuine value. At Bee Digital, we do this by splintering a product into at least two micro products – a free to access content piece, and a more in depth content piece that requires some sort of commitment in order to access – typically an email address. These become our top and middle of funnel hooks – our introduction to the company and the evidence that our client is the expert in their area. By linking the top of funnel content to the middle of funnel content, and finally middle of funnel content to the bottom of funnel (the core product), your customer has a very clear expected user journey, which converts a hell of a lot better than just shouting about how great your product is.
Confused? Let's look at an example…
Splintering the product
Back to the client. The company was offering classroom behaviour management software as a download, using the well-established freemium model. The goal at this stage was to just get more schools using the free version.
Tip: What many companies don't realise is this – offering something for free isn't good enough any more. People are used to and expect 'free'. Don't think just because you offer a free version schools will flock to you. They wont.
We knew the top of funnel content needed to be great value and easily digestible – in this case, we decided upon a self-hosted blog post about the best classroom behaviour management methods, specifically, The 6 questions every teacher should know to boost behaviour.
For the middle of funnel content, we would provide access to a collection of classroom behaviour worksheets. Accessing the blog post would be free (technically, we'd pay people to read it, more on that later), and we'd link people to a data capture form in order to download the set of related classroom worksheets, capturing the person's name, email address and school.
Once the blog post was added and numerous in-text, sidebar and exit-intent CTAs were created, we were ready to promote.
Running paid traffic campaigns
So the blog post is ready, the downloadble worksheets have been tested, and we are ready for traffic. Where do we turn? Facebook of course! I am a true believer of 'go where your audience is hanging out', and experience tells us, teachers hang out on Facebook – just like the rest of us – who'd have thought it?!
We've been doing this for some time now so targeting Primary School teachers with an interest in behaviour management was simple. Having created the advert and found the audience, we launched on Facebook with the goal of getting people to read the free blog post – pushing them right through the marketing funnel – and not mentioning the product at all!

The results
The core Facebook advert brought in 343 clicks, at a total cost of £83.69. The website gained 608 visitors, a 1,420% increase from the week before, with 86% of hits being from new visitors.
NB. Bounce rates, session duration and average sessions were all down a small amount from the previous week, though this is to be expected with such an influx in visitors and during the testing phases of a funnel.
This led to 58 people downloading the resource and 93 people downloading the core product – all before we even get into retargeting drop offs!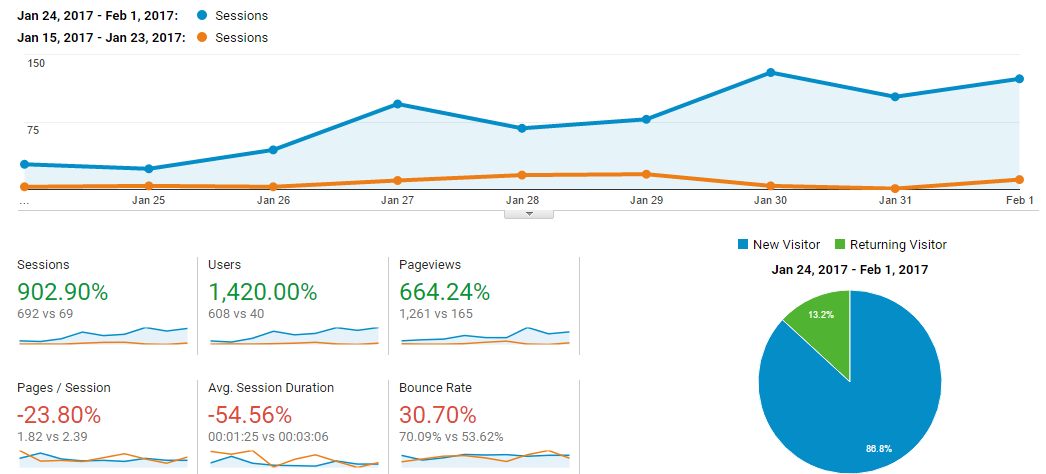 Automating the process
The one step we're missing here is our automation campaign. We used retargeting to focus on page visit rules, promoting the downloadable worksheets to those who didn't access them, and information about the freemium version of the product to those who did.
Furthermore, by downloading the classroom worksheets, visitors would be added to an automated email campaign, asking the downloader how they were getting on with the worksheets, offering handy behaviour management tips, and finally upselling people to the freemium (and later premium) versions.
Conclusion:
You may be looking at this post thinking it's too much work, too indirect – and that you cannot justify paying people to read your blog. I get it, it's totally different to how you typically work and that's scary.  The beauty of the model however, is that it requires top loaded effort and little in the way of management – fully optimised marketing funnels should be systemised and automated, left to run and run, bringing in and simultaneously converting leads into paying customers.
Please follow and like us: