The best time to ask a teacher to 'Book a call' with your sales team in your email nurture series is 15 minutes after you send your first email. Yes, I realise that sounds crazy early!
This might sound too soon, especially for a nurture email series, but the old maxim 'strike while the iron is hot' works in your favour here.
Let's say you've got a high-performing Facebook ad pointing to an optimised landing page/form with a kick-ass lead magnet.
A teacher signs up to get the lead magnet and gets dropped into your email nurture series.
Your first email thanks the teacher for downloading the lead magnet.
Afterwards, you send a carefully planned series of follow-up emails of varying lengths. You provide insights, tips, and onboarding info.
And, typically, it's only at the end of the sequence, when you're SURE the teacher is 'oven ready' to talk purchasing, that you go in with the 'Book a call' or 'Book a demo' email.
This is a solid sequence, for sure.
But have you thought about asking for action much earlier on?
Switch up the order of your email nurture series
This email automation flow is great for providing value with content, building trust, and keeping your leads warm BUT… why not cut to the chase 15-20 minutes after you've said 'Thank you'?
Simply ask them to call for a chat/jump on a call with you?
What if they get annoyed?
What if they unsubscribe?
This is FUD (Fear, Uncertainty, and Doubt). Ignore it.
You mustn't let it stop you asking for action if you think the lead is in the right place in your buying journey.
If they're a valid lead who is actively interested in your product or service, they will ignore it at worst or book a call at best.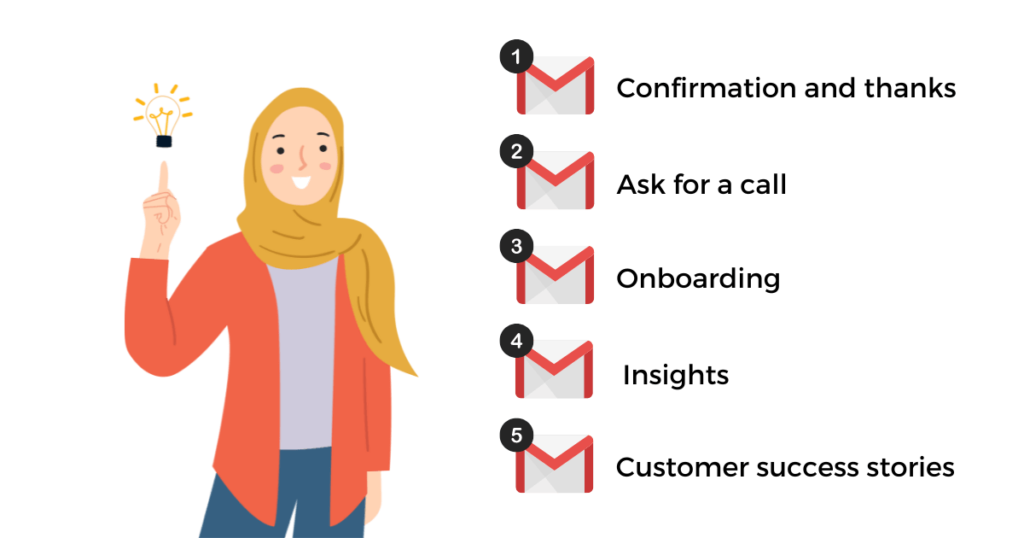 An example 'Book a call' email template
Hi <first name>,
I was just thinking, you're looking for ways to make <challenge> easier, right?
Seeing as you're interested in <product benefit> I'd love to show you how <product> can help you.
I've got some Zoom demo spaces coming up this week. <link>Book yourself a 15-minute slot</link> that suits you.
Kindest regards
John Smith
PS: This isn't a sales call, promise! I've just found it easier over the years of talking to teachers about <product X> that a chance for you to ask questions is easier face to face.
Nurturing your leads is vital
Email nurture series are essential to improving your sales rate.
If you're building your audience (and not buying teacher email databases) you have the chance to ask for action, because you're in front a prospect that's opted in to hear from you.
But at key sales points in the year it is worth throwing in a quick 'Let's chat' email on Day 0 too, because some leads may be ready to talk.
Want exclusive education marketing advice?
TAIT, our marketing to schools newsletter, hits the inboxes of our industry's smartest education marketing professionals every other Wednesday.