Getting your messaging in the right order is as important as the message itself.
Let's say you're running a webinar about a recent maths curriculum change and how it will effect assessment and planning.
It will be super helpful and informative. You're pumped.
Naturally you want as many maths leaders as possible to sign up. So 3-4 weeks before the event you spin up a Facebook Ad targeting that audience.
Now all you need to do it sit back and watch the registrations come in.
You wait a few days. Nothing yet. Maybe the ad's just warming up?
A couple of weeks in you've had a few bites but you're starting to get worried you're throwing a party and nobody's coming.
And you might be right.
You should have warmed the audience up first.
Webinar sign up rate can be improved if you consider the audience journey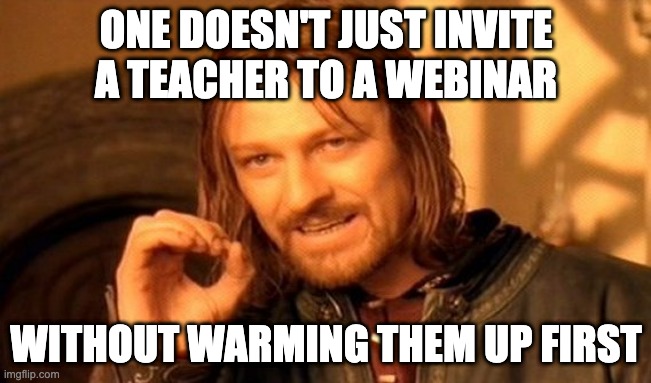 Your audience, if being reached through Facebook ads or social media outreach, is by definition pretty cold.
The first thing to remember is no teachers are waiting to hear from you.
They're not frantically refreshing their emails hoping to get your webinar invite.
The truth is teachers get unsolicited event invites all the time. And in this post-Zoom world, you really have to work harder smarter to stand out.
For this reason you need to warm them up prior to inviting them to your new webinar.
Prime your webinar sign up audience
Try offering a compelling lead magnet before inviting people to your event.
Make sure your lead magnet:
Spotlights a common/shared pain point
Is connected to the webinar (but doesn't give it all away – people will still need a reason to attend!)
Showcases your expertise
e.g. "10 things you urgently need to know about the new maths curriculum".
Also don't even mention the webinar at this stage.
Even though it seems counter intuitive to hold back from inviting people by introducing lead magnet style content first you start to agitate the problem and build trust.
Providing relevant content that speaks to their pain-points will engage cold audiences more effectively.
Your lead magnet could build an audience of several hundred teachers who have opted in to your messaging. They are receptive.
In short, they're digging your vibe.
Strike while the prospect is hot
By providing value up front you:
Gain warm, relevant leads from your lead magnet landing page
Secure data collected from download forms
Establish your brand voice as a trusted expert
Build an audience for re-targeting
Now you have 2 warm channels to pitch your webinar, which is a vast improvement on a single cold audience.
Audience 1 – Your new email list
Audience 2 – A re-targeting audience (lead magnet landing page visitors)
Run an email campaign to Audience 1 and retargeting ads to Audience 2, both with the CTA to sign up to the webinar.
Now these warm leads know who you are you should see not only more attendees but a higher quality of attendee.
Want exclusive education marketing advice?
TAIT, our marketing to schools newsletter, hits the inboxes of our industry's smartest education marketing professionals every other Wednesday.