When it comes to selling to schools figuring out what your audience thinks about their pain points is hard.
Paperclips, shoelaces, and microwaves. All products that barely need promotion.
Why? Because people simply buy them when they need them.
Their utility has become so ingrained that the typical sales funnel approach is unnecessary.
But I'm guessing you don't sell paperclips
This means developing a keen insight into how your teacher prospect interprets their "pain". It's vital to a good marketing strategy.
So in which of these 3 areas does your target teacher audience sit?
Audience #1: Teachers have a problem but don't know to look for a solution.
Your education product is designed to ease or eliminate a specific challenge facing schools.
But here's the rub.
In this audience zone, while educators "feel" that pain, they don't think there's a cure.
A teacher may express that pain in staff meetings, over a cup of tea with colleagues on playground duty, or just mutter curses under their breath.
But they're resigned to it. It's just something they put up with.
And therefore they don't even think to find a solution.
So how do you build awareness of a problem teachers aren't really trying to fix?
If this feels like your audience then step one is accepting you're in the exciting world of creating a new product category (most educational brands are fighting for sales in well-understood domains and categories).
You need to give a voice to that pain and, like a snowball gathering size as it barrels down a hill, build a marketing strategy that makes you the obvious 'pain relief'.
Draw attention to the problem on social media, YouTube, and paid ads
Tell stories about the pain.
Make memes about the pain that get shared.
Create a relatable character that experiences the unspoken pain.
But DON'T focus on product features or benefits – focus on the pain you solve.
Building the profile of the "pain" will bring it to your audience's attention.
We wouldn't advise throwing money at broad/ generic SEO keywords. Focus on building content for long-tail keywords that express and address your target audience's pain points. It's a space you might be able to own for a low cost.
Try these log tail discovery tools to see what you can unearth:
UberSuggest – A free keyword suggestion tool that provides valuable keyword suggestions.
AnswerThePublic – A free keyword research tool that provides valuable insights into consumer search queries.
KeywordTool.io – A powerful keyword research tool that allows users to quickly generate long-tail keyword ideas.
Audience #2: Teachers have a problem but they're NOT actively seeking a new solution.
This is a "dissatisfaction challenge" and it's common in saturated product categories.
Do you want to launch a new literacy scheme for primary schools? You'll be up against highly successful brands like Oxford University Press who have been doing it for about 800 years.
But that doesn't mean every teacher and school is in love with their current choice of book scheme, VLE, or assessment software.
If you're up against an incumbent product e.g., you're one of several phonic schemes on the market, make switching to your product 10x easier by taking loss aversion off the table.
Loss Aversion is a behavioural economic concept that suggests people tend to avoid losses more than to acquire gains. It is based on the idea that the pain of losing is greater than the pleasure of gaining something of equal value.
Make that change less risky to the school by offering a money-back guarantee, delayed payment, or providing an exceptional switching service.
A master class in product switching - Arbour Education vs SIMs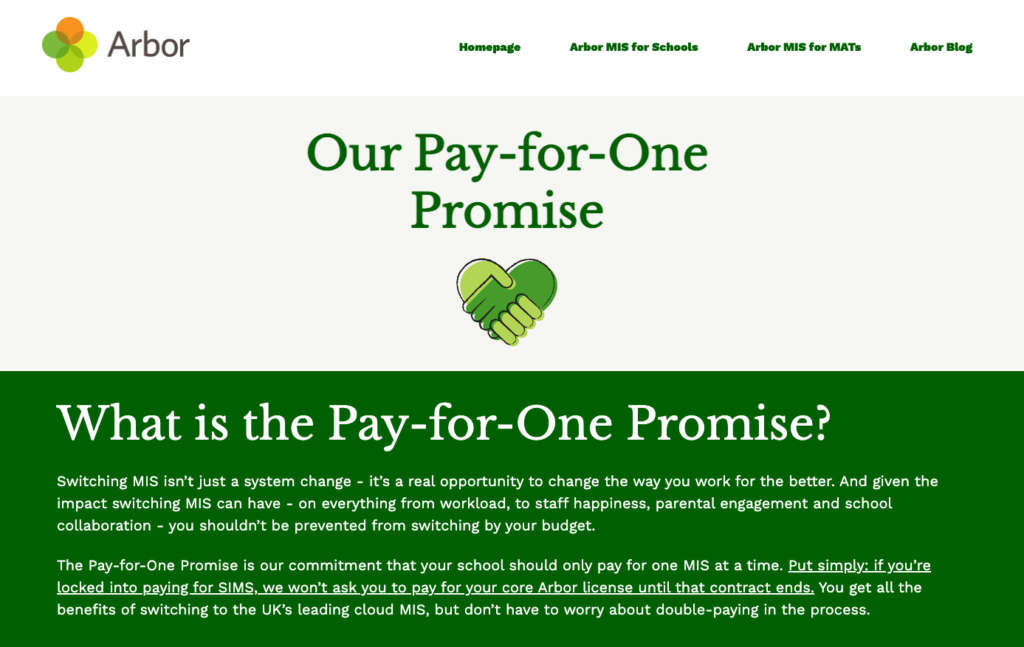 Imagine being a SIMs competitor, a complex product that's embedded in 85% of UK schools.
That's what Arbor Education was up against.
Fortuitously a strategic licencing change at SIMs gave Arbor an opportunity to tap into customer resentment and anger.
But they knew it was not enough to point out the flaws in a competing product. Being upset with a product isn't always enough to make a big change.
They also needed to find a way to challenge loss aversion.
To that end they built an exceptional (and successful) switching campaign with their "Pay-for-One Promise":
This was a smooth move from Arbour to reduce risk and remove the pain of change.
They even took the time to source lots of social proof to back up their claim. This wasn't one of our campaigns but game respects game 🙂
Audience #3: Teachers have a problem and they ARE actively seeking a solution.
This is where most marketing tactics tend to sit. It meets typical school problems such as…
A teacher who has had enough of a poor product and is seeking an alternative
A school that is about to be out of contract with a supplier
When curriculum change has forced a department head to explore a new geography scheme
A new library that needs a book refresh
The installation of a faster wireless network means buying new devices
An Ofsted report that outlines areas for improvement
But this doesn't translate as an easy marketing ride! While a strong and smart strategy is important you might also want to consider the following:
Carry out a competitor analysis and use this info to create clear, visual product comparison charts ("Our product vs. Their product")
Get an EdTech Impact profile to gather teacher reviews
Run a technical SEO audit on your website to find out how discoverable you are on search engines
Avoid telling prospects what they already know
Many leads will come to you when they're already far along their buying journey.
They've done the research, checked out a range of products, and are probably building a short list already.
What they're expecting from you is validation, knowledge, and credibility.
So build explainer videos, deep-dive videos, and a weekly live demo that requires prospects to register.
Understanding how your product or service fits your audience's position will help inform the tactics you deploy.
Ready to grow your education business? 😎